Britta's Journey ~ An Emigration Saga
Britta longs to see her father after what seems a lifetime of separation...
After waiting four long years, twelve-year-old Britta finally departs with her family to join her father in America. Britta thrills at the prospect of seeing him in just a few weeks, but circumstances stretch their journey to months.
Based on the true story of a family's1904 emigration, Britta's Journey relates a young girl's experience as she travels across two seas to a new life. Britta remains hopeful in spite of her family's many trials, through which she discovers inner strength and resourcefulness she never guessed she had.
Historically accurate, Britta's Journey is a rare venture into American emigration This book will bring history alive as it touches the hearts of young and old readers alike.
Writing Britta's Journey…
was a grand adventure of research and interviews with my spunky, elderly neighbor, Eleanor Stone, who had written a chapbook about her family's emigration and homesteading in NE Minnesota.

After losing three children to illness in Finland, Johan Erik Jacobson traveled alone to America in 1900, hoping to send for his family within a year. They never imagined it would be over four years before they saw each other again.
It's no surprise that it took Johan four years to save enough money for his family of five to come to America, especially given the low wages that immigrants made in the mines. In addition to the fare from Liverpool, he had to provide funds for a train ride to Hango, Finland, a ship to Hull, England, and transport across England to Liverpool
Although this may not seem expensive to us, Britta's father probably made about $2 a day, barely enough to live on. It's no wonder it took years to save passage for five people from Finland to New York.

This illustration by Gail Alden Hedstrom, depicts what the train ride might have been for Britta and her family from their home near Vaasa to the port at Hango. There they caught the Arcturus, shown on the right, which took them on a rocky ride across the Baltic Sea to Hull, England.
Britta's family took a train to Hango, Finland, and from there they boarded the Arcturus, which took them on a rocky ride across the Arctic Sea to Hull, England.
Emigrants had to spend a night or two at an emigrant hotel in Hull England, much like this one in Hanko. Rooms filled up quickly, so Britta and her family ended up sleeping on the floor of the hotel's lobby.
Another illustration by Gail Alden Hedstrom depicts Britta cleaning out the railway car they lived in all summer in Liverpool when they were denied passage on the ship because...well, read the book!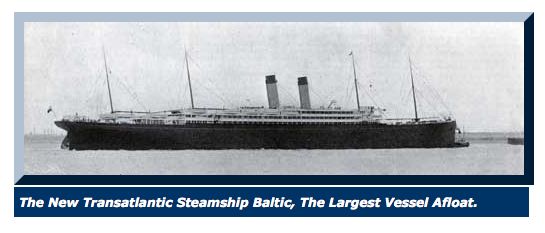 The family was finally able to board the Baltic for their trip to America, three months after leaving Finland. It was a LONG summer, and a long voyage.
At long last, Britta's family arrived in New York, eager to see Papa after four years without him. Of course, there were many adventures along the way, and Britta has proven to be a valuable asset to her family along the way.